Today, YouTube becomes indispensable in people's life, because it has occupied very high active users volumes, and provides smooth playback experience to all its dear users. There are lots of useful video resources uploaded on YouTube everyday, and you can discover the video resources in all kinds of categories. Music is also an important component of YouTube. But without a downloading service provided, how can people convert YouTube to MP3 and save the audio resources they like for playing offline? We will find out for you in this blog.
CONTENT Best Way to Convert YouTube to MP3 320kbps on DesktopYouTube to MP3 Converter for Android/iOS
Best Way to Convert YouTube to MP3 320kbps on Desktop
Frankly speaking, this is a completely simple task because there are many video downloaders provided to save YouTube videos without hassle. But for people who are new to this field, they would consider a reliable one, which should be 100% safe, easy to use, and with high quality. Basing on these needs, I would like to recommend VideoHunter to you.
VideoHunter is a brilliant YouTube music video downloader as well as YouTube audio converter. It works stably to convert YouTube common videos, music videos to MP3 format with high output quality such as 320kbps and 160kbps. VideoHunter is completely simple to use because of its intuitive interface. In addition, VideoHunter can also work as a YouTube playlist to MP3 converter, which is able to convert a whole YouTube playlist to MP3 format with 320kbps at once.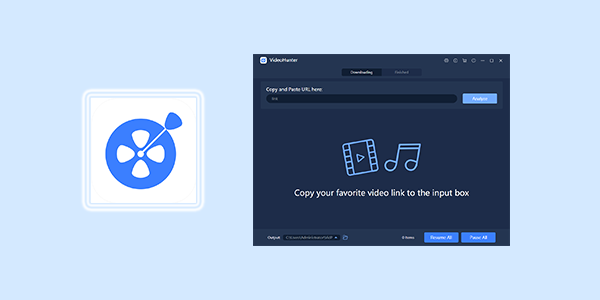 VideoHunter offers free and paid versions, but what are the exact differences between them?
In conclusion, VideoHunter free trial offers the same full features to users in the first 15-day for experiencing. The exact differences except for this include:
1. Only 10 HD video can be converted within these 15 days;
2. If you use the converter on Mac version, you are only allowed to convert content less than 3 min.
So we highly recommend you to try VideoHunter freely at first. If you think that you really need this tool, you can pay for it for extending the subscription period.
Now, let's move forward to see how to convert YouTube to MP3 via VideoHunter.
Today, when be tha of life. People just try to keep everything as simple and convenient as they could.
STEP 1. Move to YouTube platform at first and go to the YouTube video you want to convert its soundtrack to MP3. Then, copy its URL.
STEP 2. Paste the URL of the YouTube video to the interface of VideoHunter's downloader. After that, also press the "Analyze" icon provided there to start converting YouTube to MP3.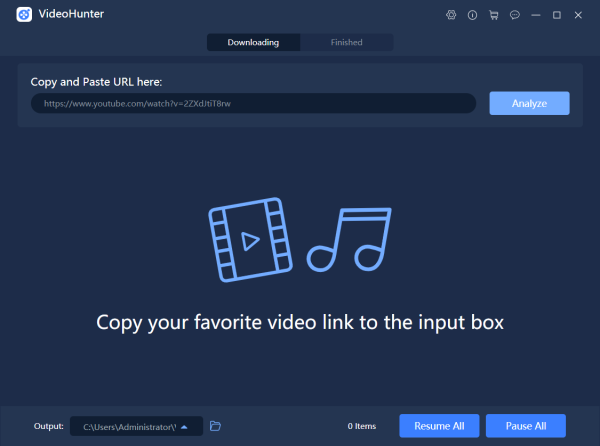 STEP 3. Just wait for a minute, the output choices will be showed up to you. You should move to the cursor to "Download Audio" section and choose the preferred quality such as 320kbps to save the YouTube video.
NOTE: You can also download the YouTube video in MP4 format or its embedded subtitles separately. VideoHunter will solve the downloading processes at the same time because of it batch download feature.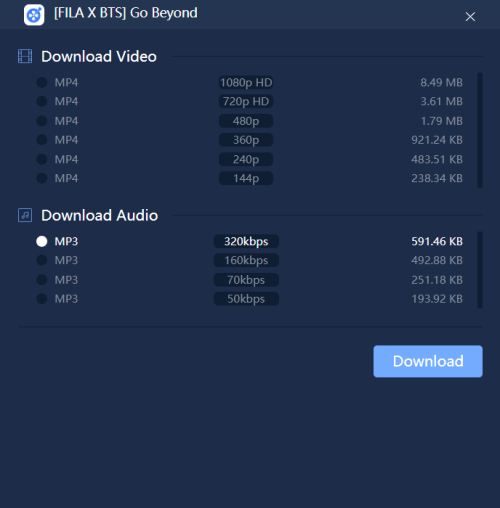 STEP 4. Finally, just by clicking on the "Download" button in the format menu, you can begin to convert YouTube to MP3 or other formats. VideoHunter performs quickly and will save the content for you very soon.

# Tip of VideoHunter:
VideoHunter launches the YouTube playlist downloading feature on both Windows and Mac. So you can use this function to convert YouTube playlist to MP3 at once. It can help a lot to save your time!
YouTube to MP3 Converter for Android/iOS
This part is for mobile devices users. If you are using an iOS or Android devices instead of desktop, here is still a way for you to convert YouTube to MP3. All you need is a simple online YouTube to MP3 Converter - U2Convert. Now, let's just move direct to the tutorial on converting YouTube to MP3 on iOS and Android devices.
# On iOS Devices
NOTE: If you are using iOS 13 or later iOS systems, you can directly use Safari for converting YouTube to MP3 with U2Convert. In addition, for users using iOS systems that are lower than iOS 12, you need to use the built-in browser of Documents to proceed the conversion process.

STEP 1. At first, you should go to YouTube and copy the URL of the YouTube video you want to convert to MP3 for offline listening.
STEP 2. Move to Safari/Documents browser, and go to U2Convert. Then, directly paste the URL of the YouTube video to the frame bar on U2Converter's YouTube to MP3 Converter interface. When you paste the URL, it will directly convert the video for you.
STEP 3. When different output qualities provided for the MP3 files are offered by U2Convert, just choose your needed one and hit the icon of "Download" to save the converter MP3 YouTube video to your iOS device.
# On Android Devices
STEP 1. Unlike iOS devices, you can use any browser to convert YouTube to MP3 on Android devices. So open a browser you use often, and go to YouTube for copying the URL of the YouTube video.
STEP 2. Open another tab, and navigate to U2Convert YouTube to MP3 Converter. Then, input the link to the frame bar, and U2Convert will analyze it for you.
STEP 3. When U2Convert offers the output choices to you, select MP3 with the quality you need, and press the "Download" icon for saving it offline on Android!
That's all! You now get 3 ways to convert YouTube to MP3 using different devices. They will be helpful especially for those who rely on YouTube for listening to all kinds of music. So when you also need to convert YouTube video to MP3, or extract the soundtracks out of the videos you like, turn to this tutorial to figure it out! Thanks for your support!